Wink's Panorama:
A Gilpin County African-American Oasis
August 5, 2022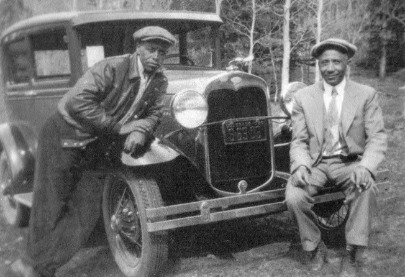 Wendall "Wink" Hamlet (left) poses for a photo with his brother, Clarence, in the 1950s. Photo courtesy of Denver Public Library Special Collections.
Children stand in front of a "Winks Mountain Cabins" pickup truck in the 1950s. Photo courtesy of Denver Public Library Special Collections.
Wink's Panorama 2021. Photo: Colorado Historical Foundation

About the author: Brooke Keith completed her capstone project while serving as the Colorado Historical Foundation's Public History Intern.
Ms. Keith is an experienced creative and strategic marketer. Her passions include learning about, listening to, and sharing lesser-known histories that have, and continue to, shape our society. Ms. Keith graduated from Norwich University in June 2022 with a Master of Arts, Public/Applied History.
Editor's note: Wink's Panorama was one of 280 sites documented in the Colorado Historical Foundation's African American Travel and Recreation Survey
BY BROOKE KEITH
"I can still smell the pine trees, the logs burning in the fireplace and the outdoor barbecue. I can still hear the rush of the water in the river below, the loud thunderstorms, and the swishing of the Aspen trees," reminisced Linda M. Tucker KaiKai. KaiKai is the great-niece of Obrey Wendall "Wink" Hamlet. Hamlet, a Black wood, coal, and moving-business entrepreneur in Denver, Colorado's Five Points neighborhood. Hamlet, familiarly called Wink, built Wink's Panorama (Wink's Lodge) from 1925 to 1928. KaiKai was one of the many Black people who spent time with their families in the foothills of Colorado at Wink's enjoying the state's natural beauty and time away from their everyday lives.


Wink's Panorama served as the social hub of Lincoln Hills from 1928 to 1965. Lincoln Hills was a Rocky Mountain resort for Black travelers during the era of segregation that opened in 1922. The resort and the lodge offered a safe environment during a time when traveling was challenging and potentially dangerous for Black Americans. Located in Gilpin County, twenty-eight miles northwest of Denver at an elevation close to 8,300 feet, in addition to its lodgings, Wink's hosted book readings, dances, and other cultural and social events. Notable guests such as Duke Ellington, Count Basie, Lena Horne, Langston Hughes, and Zora Neale Hurston looked to the lodge and resort as an oasis and respite in a country permeated by white supremacy. The lodge was a welcome alternative to the segregated accommodations in Denver and offered a relaxed, natural environment.


Wink's Panorama is a three-story late nineteenth/early twentieth century-style building exhibiting Craftsman design principles. The Rustic stone and wood-shingled lodge was constructed of stones and logs Hamlet found in the local area. Hamlet also repurposed materials from various Denver locations and drove them up Coal Creek Canyon in his truck during his time off. Of special note are the pressed metal ceiling tiles from the original Denver Post building on Denver's Sixteenth Street between Curtis and Arapahoe Streets. The tiles now grace the lodge's kitchen, bathroom, and dining room.


Beyond the building's materials, the lodge's placement on the property is also notable. Landscape architects Everett Fly and LaBarbara Wigfall Fly, co-authors of the lodge's original 1980 National Register of Historic Places nomination, noted, "Its careful sitting among existing vegetation and slope conditions, its sensitive use of indigenous and imported materials, its creative combination of rustic and contemporary structural techniques and systems, and a restrained yet thoughtful use of color, harmony, contrast, and accent allow it to sit naturally in its environment." In addition to a rustic outdoor barbeque and picnic area, Hamlet also meticulously crafted a stone fireplace in the living room, where guests gathered to chat, relax, and play games.


Hamlet welcomed visitors arriving by automobile or by train from the stop just downhill from the lodge on the Denver and Salt Lake Railroad (later the Denver and Rio Grande Western). Guests either walked the quarter mile across a bridge over South Boulder Creek or were greeted by Hamlet and his pickup truck. The reception and atmosphere at Lincoln Hills and the lodge differed dramatically from what Black people usually experienced traveling. The lodge was featured in 1950 edition of The Negro Motorist Green Book the first year the book expanded its vacation section to cover the entire country and was the only Rocky Mountain resort included. Black Pullman car porters may have also played a role in promoting the lodge to railroad passengers at Denver's Union Station.


According to Dexter Nelson II, the Associate Curator of Black History and Cultural Heritage at History Colorado, "with the approval of new civil rights legislation, African Americans had more travel options opened up to them." Ultimately these significant civil rights advancements led to the lodge's closure in 1965; also, the year Hamlet passed away. The late Denver restauranteur, Lawrence J. Pierre, lamented, "When he died, the little place just died."


The Colorado Historical Foundation was granted a historic conservation easement on the property in 2013 to help highlight the lodge's defining historic architectural, and social and cultural, characteristics. Additionally, the original 1980 National Register nomination successfully argued that Wink's Panorama qualified for national, not just state-level, significance for its role in the history of African American recreation in the West.


Lincoln Hills celebrates its 100th anniversary in 2022 and Wink's Panorama was recently named a National Historic Landmark (NHL) by the National Park Service (NPS) Landmarks Committee confirming the property's long-term influence and inspiration. Although Hamlet built Wink's Panorama as a respite from society's mistreatment of Black people, as a peer reviewer of the National Historic Landmark nomination observed, Wink's "cannot only be understood in terms of Black people's response to racism. This site is also the product of enthusiasm for the mountains, love of nature, and a site for everyday joy."

References:
betts, donnie l, dir. PBS Colorado Experience. Season 1, episode 101, "Lincoln Hills." Aired February 21, 2013, on Rocky Mountain PBS. 27:55. https://video.rmpbs.org/video/colorado-experience-lincoln-hills/.
Black Past. "Wink's Lodge." Accessed March 17, 2022. https://www.blackpast.org/AFRICAN-AMERICAN-HISTORY/INSTITUTIONS-AFRICAN-AMERICAN-HISTORY/WINKS-LODGE-1928-1965/.

Calloway, Bertha W., and Everett and LaBarbara Wigfall Fly. "Wink's Panorama." National Register of Historic Places Inventory--Nomination Form (Washington, DC: U.S. Department of the Interior, National Park Service, 1979).

Denver Public Library. "Lincoln Hills Country Club." Accessed March 17, 2022. https://history.denverlibrary.org/news/lincoln-hills-country-club

.

History Colorado. "A Rocky Mountain Dream." Accessed March 17, 2022. https://www.historycolorado.org/story/2022/02/04/rocky-mountain-dream

.

Leavitt, Craig, and Astrid Liverman, Ph.D. "Wink's Panorama." National Register of Historic Places Registration Form. (Washington, DC: U.S. Department of the Interior, National Park Service, 2014).
Simmons, Thomas H., and R. Laurie Simmons. "Wink's Panorama." National Historic Landmark Nomination Form (Washington, DC: U.S. Department of the Interior, National Park Service, 2021).