Perry-Mansfield:
A Routt County Creative Legacy
June 21, 2022
Top: Perry Mansfield students strike a pose on the Main Lodge. Above: Camp founders Charlotte Perry and Portia Mansfield. Photos courtesy of Perry-Mansfield Performing Arts School and Camp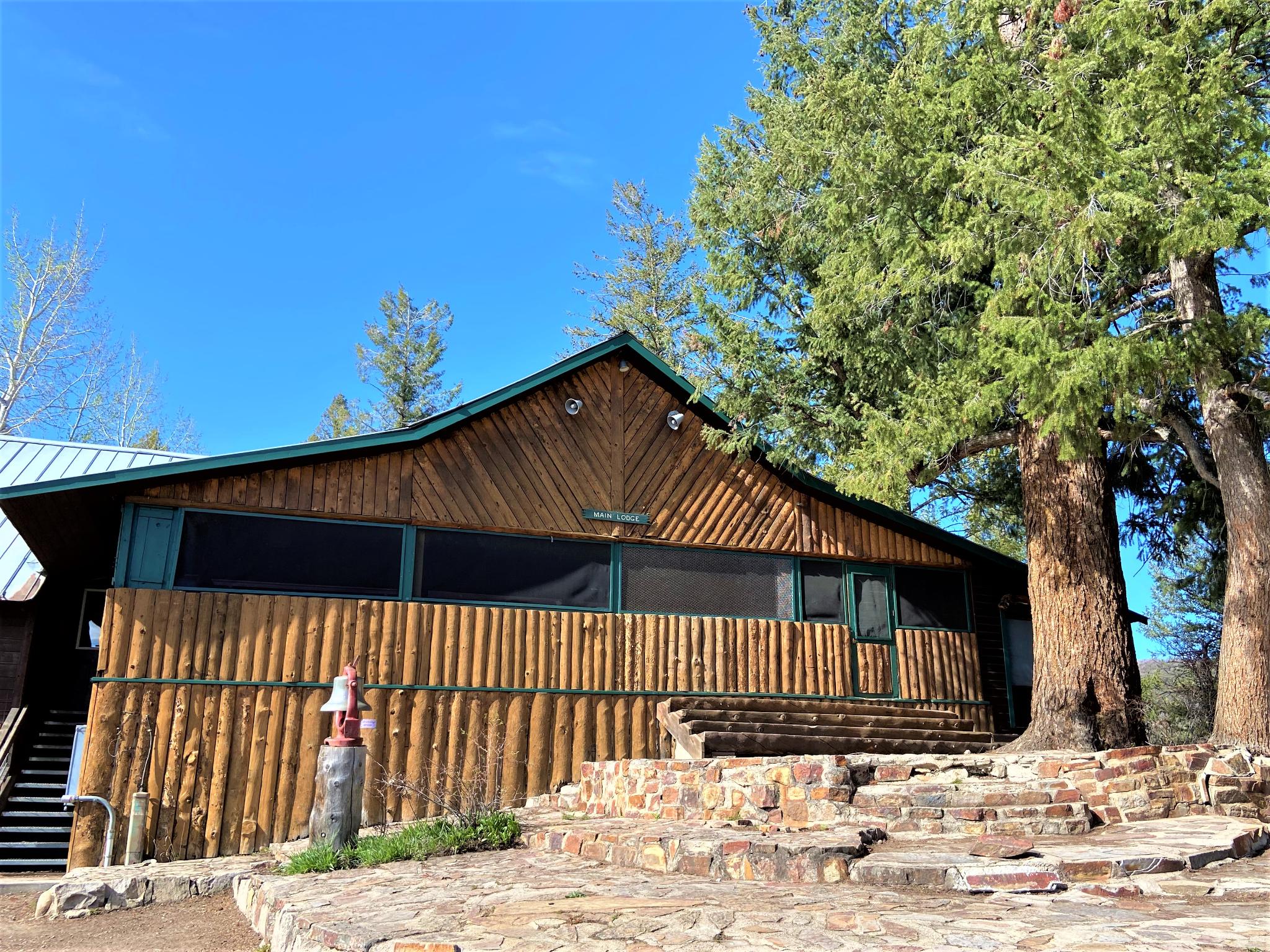 Main Lodge, Perry-Mansfield Performing Arts School and Camp. Photo: Colorado Historical Foundation
Main Studio Perry-Mansfield Performing Arts School and Camp. Photo: Colorado Historical Foundation

About the author: Brooke Keith completed her capstone project while serving as the Colorado Historical Foundation's Public History Intern. Ms. Keith is an experienced creative and strategic marketer. Her passions include learning about, listening to, and sharing lesser-known histories that have, and continue to, shape our society. Ms. Keith graduated from Norwich University in June 2022 with a Master of Arts, Public/Applied History.
BY BROOKE KEITH
"An absorption in an art with heart and mind; sense of the close brotherhood of the arts, and of the values of the way of life close to creatures and mountains and out-of-doors," declared Charlotte Perry, co-founder of the Perry-Mansfield Performing Arts School and Camp.
In 1913, Charlotte Perry and Portia Mansfield first founded the performing arts school and camp in the mountains west of Boulder, Colorado. After a harsh front-range winter and according to local newspapers, too many curious onlookers with binoculars, Perry and Mansfield relocated the camp to a five-acre homestead three miles north of Steamboat Springs, paying just $200. The dwelling on the property, nicknamed the "Cabeen", served as Perry and Mansfield's private residence for 53 years. In the early days, Perry and Mansfield transformed their living room into a rehearsal hall and social gathering place for campers.


Today Perry-Mansfield is the oldest continuously operating performing arts school and company in the country. The camp is frequently credited as the birthplace of modern dance, with artistic roots as deep as the camp's aspen groves. Perry and Mansfield met while students at Smith College in Northampton, Massachusetts and were both well versed in the arts. Mansfield's main interest was dance. As an affluent young woman, she attended Broadway shows and plays in Chicago and New York. Perry's first love was drama. A Denver native, Perry was raised in a prosperous railroad and mining family and attended nationally known theater productions before heading east for college.


Upon graduation, neither woman was interested in the typical high-society path of their peers. Perry invited Mansfield to visit Colorado in the fall of 1912. During the visit, Perry's father asked the two young women to join him on a bear hunt in the remote mountains, where they rode horses and camped under the stars. This experience inspired their shared dream to open a summer arts camp in the Rocky Mountains—starting a life-long habit of turning challenges into opportunities.


Known early on as the "mad ladies of Steamboat," Perry and Mansfield were challenged to win over the Steamboat Spring's locals after purchasing the original five-acre homestead. The women strategically hired local carpenters from the Oak Creek coal mines (Perry's father owned the mines) to build the Main Lodge in 1918 and the Dance Studio shortly thereafter, in 1922. Perry and Mansfield supervised the construction of both buildings and continued this oversight for most of the camp's structures up through the 1960s.


The Main Lodge is a two-story, stepped structure on timbered piers with concrete footings. Like many other buildings on the property, the Main Lodge features vertical sawn log siding typical of Rustic-style architecture popular during this period and, particularly in the Rocky Mountain region. The Main Studio is a cruciform plan and features horizontal, drop siding. With the protection of the historical conservation easements, the Main Lodge and the Main Studio's character-defining historic features will be preserved for future campers.


In addition to designing and overseeing construction for the buildings, Perry and Mansfield also learned to build furniture. They built bunks, tables, benches, and chairs to furnish the first buildings, and some of the furniture is still used today. Another essential component of Perry and Mansfield's creative vision was incorporating the natural surroundings into their teachings and performances. The vernacular, rustic architecture fit right in with this "Arts & Craft" design approach. The studio has large wooden shutters that hinge at the top to allow in natural light and the cool Rocky Mountain air. Perry and Mansfield were also known to never move a tree or shrub to build a cabin.


"The Ladies," as they were later known, significantly contributed to the foundation of American dance and theater. Perry and Mansfield built a creative haven when there were few opportunities for professional performing artists or students in the early twentieth century. Campers studied ballet and modern dance and experimental theater techniques. Numerous influential dance and theater pioneers attended and taught at Perry-Mansfield, including Doris Humphrey, Agnes DeMille, Jose Limon, Julie Harris, Dustin Hoffman, and Lee Remick.


Perry and Mansfield's early vision for the camp, and their own lives, "Creative practice through art and nature manifests in an insightful, compassionate and courageous life," continues to inspire. They fostered individuality, creative experimentation, and an appreciation of nature in generations of dancers and actors. Jordana Grolnick, a Boulder native who recently came to Denver as part of the Hamilton North American Tour, shared, "In middle school, I started attending Perry-Mansfield Performing Arts Camp in Steamboat Springs during the summers, where I was taught by people who performed and created for a living. Those summers inspired me to start training to do this professionally."


The camp's Main Lodge and Main Studio are both part of the Colorado Historical Foundation's historical conservation easement portfolio and have benefited from preservation funding through the History Colorado State Historical Fund. Perry-Mansfield is a National Register Historic District and is also listed on the Colorado State Register of Historic Places.


In addition to the Foundation's historical conservation easements, these designations help support the camp's goal of serving as a tranquil, creative, and inspiring sanctuary deep in the heart of Routt County – just as "the Ladies" had set their hearts and minds to over a hundred years ago.
References:
Alexandroff, Marty. "Perry-Mansfield School of Theatre and Dance," National Register of Historic Places Registration Form (Washington, DC: U.S. Department of the Interior, National Park Service, 1995), Section 7 and 8.
Denver Center for the Performing Arts. "Colorado Native Jordana Grolnick Comes Home in Hamilton." Accessed March 11, 2022, https://www.denvercenter.org/news-center/colorado-native-jordana-grolnick-comes-home-in-hamilton/.
Henry, Tricia. "Perry-Mansfield School of Dance and Theatre." Dance Research: The Journal of the Society for Dance Research 8, no. 2 (Autumn 1990): 49-68. https://www.jstor.org/stable/1290569.
History Colorado. "Perry-Mansfield School of the Theatre and Dance." Accessed March 10, 2022. https://www.historycolorado.org/location/perry-mansfield-school-theatre-dance-perry-mansfield-camp-perry-mansfield-performing-arts.

Mariel Rodriguez-McGill, dir. PBS Colorado Experience. Season 4, episode 9, "Perry-Mansfield Performing Arts School and Camp." Aired January 5, 2017, on Rocky Mountain PBS. 26:39. https://www.pbs.org/video/colorado-experience-perry-mansfield/.

Perry-Mansfield. "Our History." Accessed March 11, 2022. https://www.perry-mansfield.org/history.